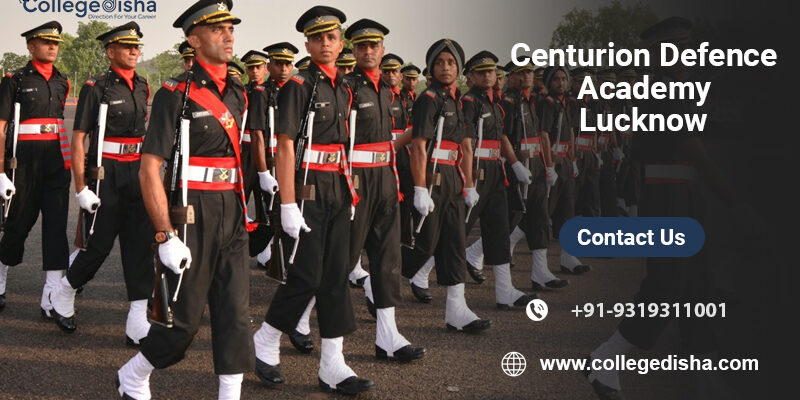 Centurion Defence Academy is one of the best SSB Coaching Centres of Lucknow. It has a fabulous infrastructural campus that is made to prepare candidates for various Civil Entrance Examinations – SSB, NDA, CDS, Airforce, AFCAT, MNS, INET, and other competitive examinations. The Academy imparts the training for the complete tests conducted during the 5 days SSB test, including interviews, all outdoor and psychological tests, Group Discussions, and screening tests. 
The academy is specialized in providing coaching and training for SSB Interviews for Army, Air Force, and Navy Selection Boards; NDA, CDS Exam, OTA, NA, SSC, TES, AFCAT, JAG, UES, TGC, Special Entry Scheme for Women (Army Candidates – SCO, PC(SL), ACC), Navy Candidates (CW, HET, SD), Airforce Candidates ( F(P), Branch Commission, GDOC and NCC Certificate Candidates for all wings. The Academy also offers written exam coaching for entrance examinations such as NDA/OTA/CDS/ACC/CAPF(AC) and AFCAT.

The Courses here are designed in digital as well as technical aspects to develop the knowledge and problem-solving skills of the candidate. The faculty team of Centurion Academy consists of experienced professionals and Ex. officers who guide you to become an officer with the help of their knowledge and experience.
Centurion Defence Academy Lucknow has other branches in the cities like Delhi, Varanasi, Allahabad, and Kanpur.
Online Courses Offered by Centurian Defence Academy :
NDA Online Course

CDA Online Course

AFCAT Online Course

Airforce X Group  Online Course

Airforce Y Group Online Course

ACC Online Course 

Merchant Navy 

MNS Online Course 

INET Online Course

SSB Online Course

Army Technical Online Course

Army GD Online Course

Army Clerk Online Course 

Army Nursing Online Course

Navy AA Online Course

Navy SSR Online Course 
At  Centurion, the candidates are offered academic training and other facilities like sports, online labs, libraries, activity areas, hostel facilities, Mess facilities, and other extracurricular activities. The Centurion Academy conducts written and SSB interview coaching terms as per the candidate's choice of the course plan for 120 hours of mandatory training.
Why Choose Centurion Defence Academy?
The Academy is known to be the finest and best academy for SSB Training and Interviews preparation and it has a prior record of training 5000+ officers who later got selected. They also provide free-of-cost OIR testing to check the OLQ's of the defense aspirants. In addition to all these benefits, the academy has this standard infrastructure including separate hostel facilities for male and female candidates. 
Centurian Defense Academy is the only academy in Lucknow that offers a fully equipped ground for GTO training and an obstacle course. The highly qualified faculty of the Academy has a systematic and practical approach towards SSB training, they prepare the aspirant for the cut-throat competition in this field.