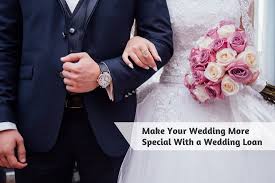 The $50 billion Indian wedding industry is one of the largest contributors to the country's economy, after the agriculture and service sector. Over 10 million weddings take place in India every year, including high-profile luxury ones. While taking wedding vows is a family affair, individuals do not shy away from splurging a substantial amount to make this event memorable. 
Nonetheless, liquidating savings to conduct a wedding is not a wise decision. Alternatively, individuals can opt for a wedding loan that helps them to sail through such expenses with ease. 
Before applying for this fund, prospective borrowers need to know the details to make the most of this advance. 
What is a wedding loan?
It is basically a collateral-free personal credit that individuals use as a wedding loan. Individuals do not have to pledge any asset to avail of these funds. They can also utilise these funds to mitigate any expense incurred while arranging a wedding. 
By opting for this personal loan, individuals can keep their savings intact and manage other financial liabilities comfortably. 
Features and benefits of a wedding loan 
Following are some of the key features of a wedding loan that individuals can consider while applying for this advance. 
Covers almost all expenses 
A wedding ceremony entails diverse expenses like reserving a wedding venue, catering, decoration, gifts, accommodation of guests, etc. Along with that, the wedding attire, jewellery, hiring professional makeup artists, etc., also requires substantial funds. 
Individuals can address any of these expenses with a wedding loan. Besides, they should also finance other essentials while planning a wedding. 
Lenders offer a personal loan for marriage after assessing the eligibility of applicants. Few of the parameters include – 
The applicants need to be a citizen of India.

The age of applicants should range from 23 years to 55 years. 

Applicants must be employed at MNC, a private or public company. 

Depending on the place of residence, applicants must fulfil income criteria. 
Besides, they should also maintain a credit score of 750 and above to avail of this fund immediately. Hence, checking eligibility for wedding loans is a must for intending borrowers. 
Flexible repayment structure 
Systematic financial planning is necessary to lead a happy married life. Hence, you need to choose a repayment structure that matches your current financial standing. Usually, a wedding loan accompanies a flexible tenor of up to 60 months, and individuals can use a personal loan calculator to estimate the monthly instalments to facilitate smooth repayment. 
Hence, besides looking for the best wedding packages to fit your budget, you also need to make prior arrangements to handle the ensuing debt of the personal loan responsibly. 
You can finance your dream wedding by submitting a few relevant documents. Following is a list of the documents that you need to submit while opting for this loan. 
KYC of applicants 

Account statement of the last 6 months 

Proof of employment 

ITR documents 
You may also have to produce additional documents as per your lender's requirement. Since a wedding loan does not involve any collateral, you do not have to go through lengthy paperwork to obtain this fund. 
Generally, a wedding loan can be sanctioned within 24 hours if you can meet the eligibility parameters and submit all the required documents. This can help meet any number of emergency financial requirements that might arise at the last moment. 
Nonetheless, you should also consider additional fees and charges that you may incur in due course to plan your repayment better. 
Top NBFCs like Bajaj Finserv offer emergency loan for the marriage of up to Rs.25 lakh with flexible repayment options and competitive interest rates. 
They also extend pre-approved offers that simplify and expedite the loan application process. Besides personal loans, these offers are also available on various products like business loans, credit cards and many more. All you have to do is enter your name and contact number to check your pre-approved offer immediately. 
Therefore, a wedding loan can help to finance several pre- and post-wedding expenses without hassle. Individuals can also utilise the funds to meet the expenses of a destination wedding, as is common nowadays.