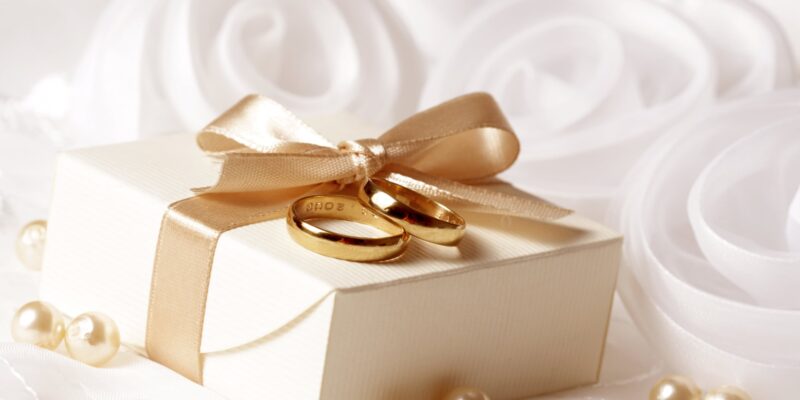 Wedding is not only about the ceremonies, but it is also about the gifts. One needs to get something for the bride and groom on their special day. At times it becomes confusing and stressful for the guests what to get for the bride and groom. 
Wedding gifts have to be something that cater to the needs of both the bride and groom. It cannot be something that caters to a single person. 
Getting a wedding gift depends on a lot of factors which include the kind of wedding you are attending, the closeness of you with the bride and groom etc. So it becomes a tedious job to pick between lots of options and also get something that is unique.
Mostly it happens that gifts that the couple receives are very cliche and not of their use. So, ultimately, it parcels to the other weddings. If you want your gift to be exquisite and to be used by the couple receiving it, go through this article that will guide you on what to pick for the newly married couple.
A suitcase-
The suitcase is the most necessary item for the couple because definitely after marriage they will go on a honeymoon and will do multiple trips. So in that case, a big suitcase which can adjust the clothes of both the couple will come handy to them and will reduce their 2 to 4 luggages to one.
Scented Candles-
Of course, the newly married couple will shift to a new place and have a new house. So getting a scented candle for them will give a great vibe to their new space. Even personalised candles are also available at the market. You can get it customised according to your needs.
Air-Fryer-
Newly married couples get lots of appliances, but mostly they are repeated ones or are those that are quite complicated to use. So instead of a cliche appliance, you can go for an air fryer. To that health conscious couple, you can get an air-fryer to reduce their consumption of oil and at the same time let them enjoy delicious cuisines together. 
Chopping Board-
The newly married couple will set up their kitchen in their new house. A much needed thing in a kitchen before cooking is a chopping board, which you can get for the couple at their wedding. 
Lamp-
To light up the new house of the couple, you can get them a lamp. These days there are a plethora of options available in lamps. From standing lamps to clamp lamps, night lamps to study lamps. You name it, and you have it. So you can get a lamp according to your choice and budget for the couple. Instead of lamps, you can choose to get a chandelier, which are also available in a variety of shapes and sizes.
Wine glasses-
Wine glasses come handy during parties. So you can get a set of wine glasses for the newly married couple as they will have parties after the marriage and will also have guests and their friends over. Wine glasses are available in different varieties, shapes and sizes. So you can choose according to your preference. 
Cake-
A cake is not just a gift but a token of love. If you are confused among the materialistic options and still want to sound different, get a wedding cake for the couple. There is a variety of cakes available at the market. From different flavours to designs, options are uncountable. Apart from the shops in the market, there is also an online cake delivery system available. So you can order from these online bakeries. Instead of cakes, you can get cupcakes for the couple. Cupcakes are very trendy and look super attractive and delicious.
A picture frame-
This newly married couple will definitely crave their pictures. So you can get their wedding picture framed and gift it to them. You can go for a collage of different pictures or you can get a single picture framed in a big frame. This is a very personalised gift, and the couple will surely love it.
Bouquet-
It becomes difficult to choose a gift for a couple who have everything. In this case you can definitely go for a bouquet with their favourite flowers. Bouquets are the classiest and always in trend gift. You can customise the bouquet by accompanying the flowers with items such as candles, diffusers, perfumes and chocolate. 
* You can also send flowers to India from the UK via an online delivery system.
Quilt-
To add that warmth and comfort in their relationship, you can get them a quilt. A new home and a new relationship need some warmth and love. So this quilt will come handy to them during winters.
So that was all about the gift ideas from which you can take inspiration before buying a gift for the newly married couple. These were all practical and budget-friendly gift options. So you don't need to look into your pockets before buying them.